Monty Python's Lost World
The very first televised version of The Lost World was actually a parody in episode 29 of the unparalleled British comedy series Monty Python's Flying Circus. Surviving an incident at the Jungle Restaurant, a captive group of explorers is being taken into the deepest Amazon...
2nd Explorer: Where do you think they're taking us, Brian?
4th Explorer: God knows!
3rd Explorer: (pointing, eyes wide with amazement) Look!
Cut to a stock shot of a volcano. Thrilling chord. Cut back to explorers.
2nd Explorer: (filled with awe) The sacred volcano Andu! Which no man has seen before.
3rd Explorer: No, no, no, next to that.
Cut to stock shot of collection of big chimneys in a brickworks. Another thrilling chord. Cut back to explorers.
1st Explorer: The London Brick Company?
3rd Explorer: No, no, no, no - next to that.
Cut to stock shot of plateau of Roiurama. Yet another thrilling chord. Cut back to explorers.
1st Explorer: The forbidden plateau of Roiurama, the Lost World, thrown up by mighty earth movements thousands of millions of years ago, where strange primeval creatures defying evolution, lurk in the dark, impenetrable forests, cut off forever from the outside world.
2nd Explorer: I still can't see it.
4th Explorer: You don't think that's where they're taking us?
3rd Explorer: Yes, and God knows what we'll find there.
A pigmy native rushes up from behind them, holding a script.
Native: What page please?
2nd Explorer: What?
Native: (with a trace of irritation) What page in the script?
2nd Explorer: (whispered) Page 7.
Native: (he speaks the lines over to himself) 'Come on, you dogs, we have far to go. We must lose no time'. (tries with eyes shut) 'Come on, you dogs, we have far to go. We must lose no time'. 'Come on you dogs'. (throws away the script, starts to push them roughly) Come on you dogs, we have time to lose, this has gone too far.
The sequence keeps going, as an expedition from the British Explorers' Club in the Mall sets out to rescue them. Eventually all hope seems lost...
3rd Explorer: We'll never get out of here... we're completely lost, lost. Even the natives have gone.
1st Explorer: Goodbye Betty, Goodbye Farquarson. Goodbye Brian. It's been a great expedition...
Music. Cut to engraving of Crystal Palace. SUPERIMPOSED CAPTION: 'CRYSTAL PALACE 1851' Cut immediately back to jungle.
1st Explorer: Great expedition ...
3rd Explorer: All that'll be left of us will be a map, a compass and a few feet of film, recording our last moments...
1st Explorer: Wait a moment!
4th Explorer: What is it?
1st Explorer: If we're on film, there must be someone filming us.
2nd Explorer: My God, Betty, you're right!
And like all Monty Python sketches, it drifts off after that without a proper ending.
While you're at it, you might also want to see Python alumni Michael Palin and Terry Jones' series Ripping Yarns, which parodys Edwardian boys' literature with episodes like Across the Andes by Frog and Roger of the Raj.
---
Double Duty
Michael Sinelnikoff is the only actor with the distinction of playing the same character in two different versions of The Lost World. He first assumed the role of Professor Summerlee opposite Patrick Bergin's Challenger in the 1998 version, and was cast as Summerlee again for the first season of the TV series.
A wonderful gentleman and actor, Sinelnikoff was one of the few highlights of either version. In spite of the circumstances, he made a very good Summerlee.
---
Articles
A chronological listing of episode titles and airdates for both the live and animated shows.
TV Series Links
The official website.
One of the better little TV series sites out there.
A short, but sweet, apologetic for the show.
---
Renewed interest in dinosaurs and The Lost World has combined with fads in live action fantasy shows and animated serieses based on literary classics to produce several televised versions of Conan Doyle's classic tales. Unfortunately, none of these versions could be rightly described as "classic" themselves.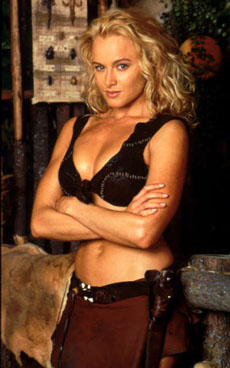 Jennifer O'Dell as Veronica
Sir Arthur Conan Doyle's The Lost World, Coote Hayes Productions (1999-2002)

With a certain lack of good fortune, 1998's direct-to-video cinematic version proved, in more ways than one, to be a test run for the Sir Arthur Conan Doyle's The Lost World television series that would debut in 1999. Besides setting the Z-movie tone for the series, the movie also bequeathed its Professor Summerlee. Michael Sinelnikoff once again assumed the role of Challenger's nemesis opposite Peter McCauley. Will Snow, doing his best Pierce Brosnan impression, played Roxton and David Orth played Malone. The series also introduced two new female leads: Rachel Blakely as duplicitous financier Marguerite Krux and Jennifer O'Dell as leather bikini-clad lost girl Veronica.
Though produced by John Landis (American Werewolf in London, The Blues Brothers), this 3-season series was one in the late-1990's tidal wave of fantasy and science fiction TV shows touched off by Hercules: The Legendary Journeys and its spin-off, Xena: Warrior Princess. Except for the addition of the unscrupulous Marguerite, the series began much the same way as the novel. Unfortunately, it veered off into fantasy as soon as they arrived on the plateau.
Since cheesecake formed an essential component of these late-1990's fantasy shows, a buxom bikini-clad blonde with a Swiss Family Treehouse was required, both to titillate and to give the expedition a base from which to engage in subsequent misadventures. These misadventures included dinosaurs, of course, rendered with rubbery puppets and unconvincing computer graphics. The ape men and South American Natives were also present and accounted for. But the fauna of the plateau also included giant bees, man-eating plants, vampires in Victorian mansions, Norse barbarians, time-traveling tourists from the modern day, an imperial race of lizard men, all sorts of magic, aliens and more. This "Lost World" is one where everything that has ever been lost appears, from extinct life to ancient civilizations to missing socks.
Though the show was given an honest effort by its cast, the public only found it mildly interesting. After the first season, Sinelnikoff found himself the victim of focus groups who decided that Summerlee was their least favorite character. A particularily ardent group of fans attempted to resurrect Sinelnikoff's starring role, but to no avail. Then, after that had come to be accepted, it seemed as though there would be no third season for the time-tossed troupe. Thanks to another campaign by fans, there was, and it was sped into production with very little time before the season actually started. Another nasty surprise for the show's fans was in store, however, with the absence of Veronica and Malone.
Sir Arthur Conan Doyle's The Lost World was a collaboration of Australian and Canadian production companies, and thanks to Australian tax laws, a production could only include so many non-Australians and still qualify for benefits. As a consequence, David Orth's and Jennifer O'Dell's appearances were kept to guest-star status and their position in the group was replaced by the new character Finn, played by Lara Cox.
It seemed like these changes worked for the production company, who gave a very early green light to a fourth season. The fourth season never materialized, and it is possible that its approval was a hasty overestimation of the success of another televised version of Conan Doyle's story produced by the British Broadcasting Company.
Review by Cory Gross, excerpted from an upcoming paper to be published in a centenary edition of the novel.

Adventures in Sir Arthur Conan Doyle's The Lost World, Koch Releasing(2001)

This little known and little seen animated series provides yet another variation of The Lost World. With some significant recastings and added characters, the main focus of the adventures is on the kid-friendly children characters Billy and Mina... The former being the son of an expedition member and the latter being a princess of the Ayara indians who inhabit the plateau. Besides fighting off dinosaurs, villains and magic, together they teach lessons of environmentalism and cultural tolerance.
Review by Cory Gross.

Introduction to the animated series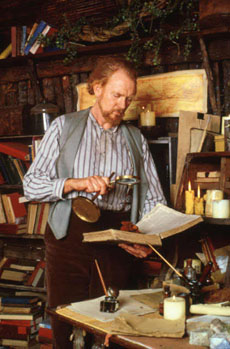 Peter McCauley as Challenger