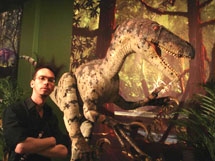 About the Webmaster
Cory Gross was born on December 27th, 1977, and has lived most of his life in or around Calgary, Alberta Canada. According to some accounts, "Tyrannosaurus" was the first word he could speak, and after high school he studied geology in college for four years in the hopes of becoming an academic palaeontologist. He never finished that degree, but it went a long way to helping him finish a BA with Distinction in Museum and Heritage Studies from the University of Calgary in 2006. Maintaining a strong interest in prehistoric life, Cory is a member of the Alberta Palaeontological Society and a volunteer with the Calgary Zoo and its Prehistoric Park. He currently works in the field of museums and heritage, including positions at the Glenbow Museum and Fort Calgary National Historic Site.
Cory's love affair with The Lost World came about as a fusion of his love for dinosaurs with his growing, Gothic-influenced, affection for silent films and Victorian-Edwardian Science Fiction. Since beginning this site in 1997, he has become an expert of sorts on the 1925 film, including having researched at the Margaret Herrick Library of the Academy of Motion Picture Arts and Science in Beverly Hills, California. On this strength, he has been invited to lecture on The Lost World for the Alberta Palaeontological Society and Galt Museum in Lethbridge, Alberta, Canada. He has also been invited by the University of Auckland's John Lavas to participate in a centennial edition of The Lost World to be published in 2012. Cory also can't believe that he's been working this site for over 10 years.
Cory's other home, a blog about Victorian Scientific Romances, can be found here.
Silent Movie Monsters: Sir Arthur Conan Doyle's The Lost World is a website devoted to Sir Arthur Conan Doyle's grand adventure novel The Lost World in all its forms. It is hoped that by visiting this site, readers will be able to grow in their appreciation and understanding of the original novel and the original 1925 silent film, their antecedents, sequels and subsequent adaptations in an informative and entertaining manner. We hope to provide illuminating (and sometimes opinionated) content that explores the wealth of science, history, cinematic art and influence on popular culture that has built, and been built by, this astonishing and underappreciated work.

The main focus of this site is upon the novel and 1925 film, as these are far and away the timelessly classic versions of the story. Related to it are many aspects of Sir Arthur Conan Doyle's literature and the broader genre of Imperialist Adventure literature, the work of stop-motion effects pioneer Willis O'Brien and early dinosaur cinema. Time and space are also given to further adaptations in film, on television, on radio and audio, in comic books, and more. In many ways, this site is a mental map following through The Lost World and its many tangents, including not only the story and its adaptations, but also other films, stories, and scientific disciplines that fans may find interesting.

Silent Movie Monsters (a title betraying our emphasis on the 1925 film) began in April of 1997 during the glory years of dinosaur film and dinosaur studies in the wake of certain mainstream blockbusters. Up to that time, there had been no comprehensive resources available about this Conan Doyle work and its adaptations. With this renewed interest in prehistoric life and antediluvian fiction, we took it upon ourselves to collect what we knew and anything we could find to create the definitive site devoted to it. Meanwhile, many new versions of the story have been produced, including the 1998 and 2005 films, the live-action and animated television serieses, the BBC mini-series and The Real Lost World documentary.

In our tenth year to the coming 100th anniversary of the novel and beyond, we hope to continue to provide this definitive resource and that you, our readers, continue to enjoy it.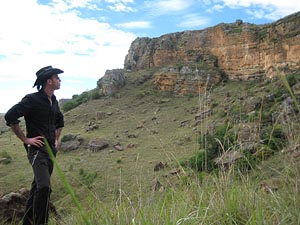 The webmaster discovers the Lost World...
Actually, Isalo National Park, Madagascar.