Cities of Literature
"UNESCO's Creative Cities programme recognises cultural excellence and aspirations in a number of creative fields, and awards a permanent, non-competitive title to those Cities they succesfully assess.
"The UNESCO Cities of Literature will work together to form strong global partnerships and literary links between our cities and countries. Each City will also be dedicated to pursuing excellence in literature on a local level, engaging citizens in a dynamic culture of words.
"Edinburgh is the world's first UNESCO City of Literature, a title awarded in 2004 in recognition of the city's literary heritage, vibrant contemporary scene and aspirations for the future. In 2008, UNESCO announced a two new Cities of Literature - Melbourne and Iowa City have joined Edinburgh to form a new global network of Cities of Literature." (Source)
---
One Book One Edinburgh
The One Book One Edinburgh citywide reading campaigns aim to bring as many of the city's residents together reading the same book at the same time. Through schools, libraries, book groups, and community groups, free books are distributed and the campaign backed by a busy programme of events and activities taking place throughout Edinburgh.
The first of these programs took place in 2007 with Robert Louis Stevenson's Kidnapped. A paperback edition was freely distributed, As well as four editions of a graphic novel version by Alan Grant and Cam Kennedy (being the original story, a Scots edition, a Gaelic edition and a modern text version). In 2008, another Stevenson novel – The Strange Case of Dr Jekyll & Mr Hyde – was selected and again the original paperback was supported by a graphic novel by Grant and Kennedy.
In 2009, Sir Arthur Conan Doyle's The Lost World was chosen as the campaign novel.
---
Links
Official website of the Edinburgh UNESCO City of Literature's Lost World 2009 project. Includes online versions of their print media, original short stories, film clips, an audio dramas, as well as information on events!
A brief piece by the Literary Traveler website.
---
Bristol Big Reading Adventure
Since 2003 Bristol's annual Great Reading Adventure has encouraged everyone in the city to read the same book at the same time. By promoting reading, the project aims to: develop standards of literacy; stimulate new forms of creativity; facilitate learning about the past; and bring diverse communities together. Each year's book is selected because it provides opportunities for discussing historic and contemporary issues of interest to local people, and thousands of copies are distributed free of charge.
The first book chosen was Robert Louis Stevenson's Treasure Island, which is partly set in Bristol and was used as a way of learning about the city's piratical and maritime past. In 2004 the project was based around John Wyndham's The Day of the Triffids, which allowed debate about environmental issues and GM technology. In 2005 Helen Dunmore's The Siege promoted learning and reminiscences about the Second World War, particularly the experiences of civilians in cities under attack. In 2006 the project extended across the South West of England as a contribution to the Brunel 200 programme with a regionwide reading of Jules Verne's Around the World in Eighty Days, a classic novel that dramatises the sense of excitement and limitless possibilities bought by nineteenth-century innovations in transport. The chosen book for 2007 was Andrea Levy's novel Small Island which was used to explore themes of migration including the enforced movement of enslaved Africans.
---
The Lost Book
To participate in this exciting supplementary, interactive online project, be sure to visit The Lost Book's official website...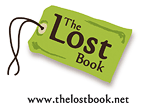 ---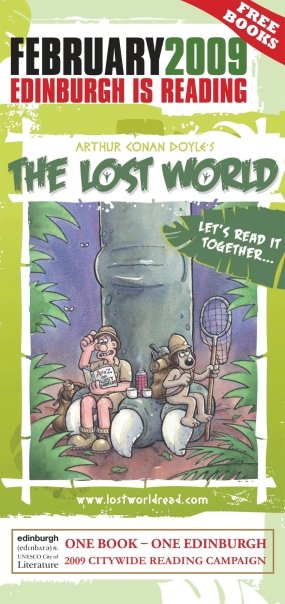 Beginning in February of 2009, the citizens of Edinburgh, Glasgow and Bristol (along with many more districts and counties through the United Kingdom) enjoyed a unique opportunity to journey to Sir Arthur Conan Doyle's The Lost World. As part of their annual One Book One Edinburgh, Aye Write! and Great Reading Adventure campaigns, lovers of literaure journied to The Lost World for free in citywide - and nationwide - celebrations.
According to the Edinburgh UNESCO City of Literature press release:
The Lost World Read 2009 will celebrate the 150th anniversary of the birth of Arthur Conan Doyle, and the bicentenary of the birth of Charles Darwin. Thousands of free copies of Edinburghborn Conan Doyle's The Lost World will be distributed through libraries, schools and supporting partner organisations together with a 'quick read' edition and a paperback comic biography on the Life of Charles Darwin. The three cities will be joined by the county of Hampshire, and the 15 Library authorities of South West England and it is hoped that other cities and local authorities will come on board.

An exclusive cover has been designed for the free edition of the book by Bristol's Aardman Animations, featuring their most famous creations, Wallace & Gromit. A spokesman from Aardman commented "Wallace and Gromit are big fans of reading and are so excited about being part of this project. They think it's great that so many people, up and down the country, are going to be joining in."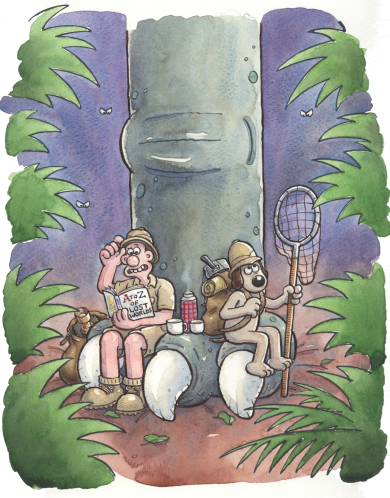 &copy Aardman Animations Ltd, 2008 (www.aardman.com).
In addition to the freely distributed books and comics, the campaign featured many community and scholastic events, including performances, films, discussions, debates and readings. A more wonderful campaign could not be imagined! Karen Cunningham, director of Aye Write! probably described it best:
I think the book is a wonderful choice, perfect because it not only celebrates a Scottish author but also has that link to Darwin and his theories. The book has a little bit of everything in it: it has excitement but also touches on a number of issues. Most of all it is a really good read, and Conan Doyle can really tell a cracking good story – we think it will appeal to everyone.
Why The Lost World and why Edinburgh? Though of Irish ancestry, Sir Arthur Conan Doyle was born in Edinburgh, Scotland, on May 22, 1859. He grew up and was educated in the city until the age of nine, when he was shipped to Lancashire and the Jesuit school there. In 1876 he returned to study medicine at the University of Edinburgh until 1881. While working on his doctorate, he began writing and published his first story in Chambers's Edinburgh Journal. That 1879 story was The Mystery of the Sasassa Valley.

University professor Joseph Bell became the foundation for Sherlock Holmes, which fellow Edinburghian Robert Louis Stevenson was able to recognize in a heartbeat. Better yet, physiology professor William Rutherford became the basis of Professor Challenger. Challenger's fictional biography has him born in 1863 in Largs, Scotland, after which he studied medicine, anthropology and zoology at the University of Edinburgh. The university itself was founded in 1582, was the sixth university to be established in the British Isles and is one of the top 25 most prestigious universities in the world.

Of the county of Hampshire's involvement, Angela Hicken, Literature Development Officer and National Year of Reading Coordinator for the county, said:
We'll be using the superb collection of books to encourage new visitors to libraries as part of a campaign to recruit borrowers. We're excited by the chance to celebrate the writing of Arthur Conan Doyle who spent many years living in Hampshire and is buried in the churchyard of the stunning thirteenth century 'All Saints', at Minsted in the New Forest.
Literacy was an issue close to Conan Doyle's heart. In 1907, he wrote a whole tome in praise of it entitled Through the Magic Door. Of reading's wonders he said:
I care not how humble your bookshelf may be, nor how lowly the room which it adorns. Close the door of that room behind you, shut off with it all the cares of the outer world, plunge back into the soothing company of the great dead, and then you are through the magic portal into that fair land whither worry and vexation can follow you no more. You have left all that is vulgar and all that is sordid behind you. There stand your noble, silent comrades, waiting in their ranks. Pass your eye down their files. Choose your man. And then you have but to hold up your hand to him and away you go together into dreamland.
Not only did the Lost World Read 2009 encourage people to explore Conan Doyle's own dreamland in the middle of the farflung Amazon, but an additional promotion allowed one to participate in crafting a whole new story in its spirit. The Lost Book was an online interactive animated webseries that used some of The Lost World's themes to tell the story of investigative journalist Aileen Adler and her dog Watson, who have to solve the crime of a stolen book. The interactive part came into play wherein the remainder of the story was decided by the public, who left their plot ideas on the website!

The big catch of the whole affair was what that stolen book was about: the expedition journals of Sally Challenger, great great grandaughter of Professor Challenger! Novelist Jasper Fforde started this microstory competition, and the whole project ran from February to July of 2009.

Andrew Wilson of the Writer's Bloc spoken word performance troupe also added his own take on the continuing adventures of Professor Challenger. His story, Out of the Depths, is described by press release as follows:
Sir Arthur Conan Doyle created Professor Edward Challenger. H. G. Wells gave the world Doctor Moreau. Andrew J. Wilson of Writers' Bloc has put them together in an explosive new story called "Out of the Depths". As part of Edinburgh UNESCO City of Literature's One Book – One Edinburgh campaign for 2009, which celebrates Arthur Conan Doyle's 1912 classic The Lost World, Writers' Bloc will present a night of literary mayhem featuring original fiction, Doyle apocrypha and -- believe it or not -- Professor Challenger battling Nazi dinosaurs. Wilson's addition to the existing canon of Challenger stories -- allegedly relayed via spirit medium by the late Sir Arthur Conan Doyle -- follows the ageing explorer from an unsettling discovery in darkest Kensington, into the bowels of the earth and, ultimately, back to the Lost World plateau itself.
That story can also be found on the City of Literature's website.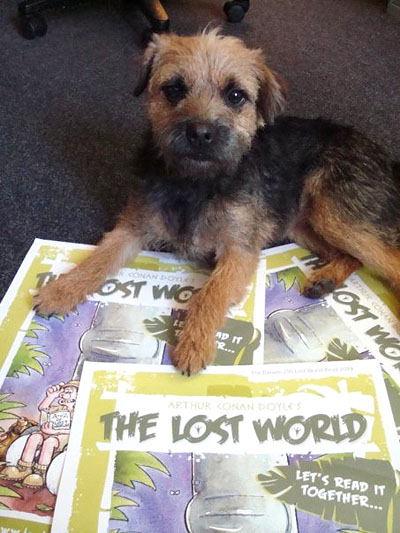 The Edinburgh UNESCO City of Literature office dog gets in on it as well...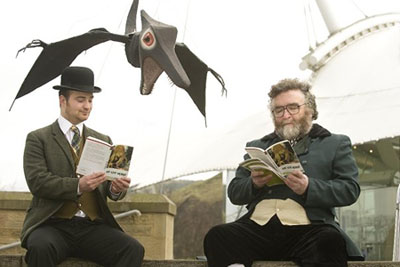 As do Sir Arthur Conan Doyle and Professor Challenger, with a friend!